News from the Farm
---
Watch lambing at Easter
Lambing season takes place over Easter every year at Blaze Farm.
Watch our flock of sheep lambing from the viewing gallery.
Please note: An admission charge applies.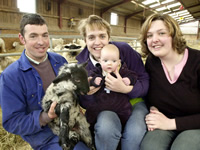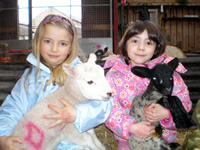 ---
The Wool Experience
The Wool Experience happens on the first Saturday in July, every year at Blaze Farm. Watch and learn about the sheep shearing process with shearing demonstrations taking place throughout the day. See the creative use of raw fleece by expert spinners and skilled weavers. There's even felt making displays too. Local produce stalls from within the Peak District also join us so it's a great day out for all the family! An admission price applies with all proceeds to local charities.
The Murmuring Wheel group will be demonstrating at The Wool Experience at Blaze Farm. For more details about Murmuring Wheel including the latest news and event information, click here.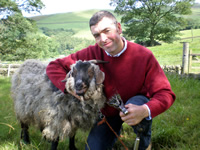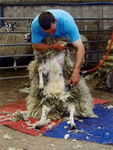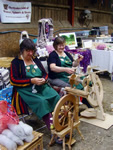 ---
Christmas at Blaze Farm
You can come and see Father Christmas at Blaze Farm on set dates in December – please check our Facebook page or call the farm directly for details. Group bookings for Father Christmas parties can be taken for our function room - please ring us on 01260 227229 for further details.
Look out for our festive ice cream flavours in December too - Christmas Pudding flavour or Baileys with Chocolate Fudge Sauce Swirls - an ideal accompaniment to finish off any meal!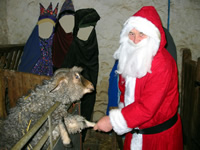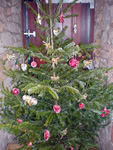 ---
Blaze Farm, proud producers of a2 milk
What is a2 Milk?
a2 Milk is a natural, great tasting cows' milk that comes from specially selected British cows. a2 Milk is also a potential answer for anyone who suffers from milk intolerance or any kind of digestive issues after consuming milk.
What is special about a2 Milk?
a2 Milk is different to your regular milk. While most cows' milk contains both A1 and A2 proteins – all natural a2 Milk comes from specially selected cows that produce milk containing only the a2 protein. A1 protein digests differently to A2 protein and has been linked with a range of symptoms including bloating and abdominal pain, hence we believe that a2 Milk is the natural answer to a question of A1 milk protein intolerance.
Where Can I Buy a2 Milk?
a2 Milk is now available in certain leading UK retailers nationwide – for your nearest stockist and to find out more about a2 Milk go to a2milk.co.uk/find/
---
Hovis Farmer's race campaign launches ahead of Grand National
The new campaign from Hovis features a TV ad in which farmers race to promote that they only use 100% wheat and that British farmers will go to great lengths to produce this wheat for them.
The filming for the commercial took place at Blaze Farm the week of 21st March 2011 and the family even had roles as extras on the commercial!
Find out more here.
---
Entrepreneurial young farmer to travel the globe
Katy, pictured here with John Platt (left) and Meredydd David, Principal of Reaseheath College, won the £2,000 Travel Scholarship in 2010.
Katy used the John Platt Travel Scholarship to attend the Great Lakes Ice Cream and Fast Food Trade Show in Lansing, North America, which is the largest annual show in the world catering for ice cream operators.
Find out more here.
---
Hollyoaks star takes to the farm
In June 2008 we were heavily involved in the 'Year of Food and Farming' campaign run by the governement. We had Leah Hackett (who played Tina McQueen in Hollyoaks) with us for the day with a film crew and photographer! She learnt how to milk a cow, shear a sheep and even made ice cream!
You can see the videos here.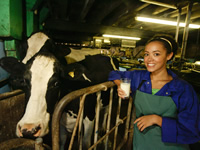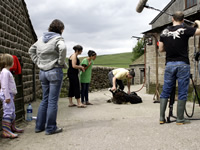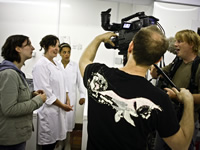 ---
Gabby Logan's Fresh Sandwich
In August 2007, we had a Morrison's advert filmed here using the diary cows from our very own Hilly Billy herd!
Gabby Logan was the celebrity on the day (pictured with some of our family members), she was lovely – we had a very exciting day here at the farm, the filming crew were here at 5am in the morning to set up!
---
Future of Farming Award 2008
Blaze Farm have be chosen as Winners of Natural England's Future of Farming Award in the North West Region 2008!
The picture shows Katy and Marshall Waller in front of Ragley Hall, after receiving the award.
Find out more here.
---
Best Small Visitor Attraction Award for Blaze Farm
We're very pleased to announce that Blaze Farm are the 2004 Winners of the Best Small Visitor Attraction Award in the Cheshire and Warrington Area.
Florence and Katy Waller are pictured here at the Awards Dinner.