Workshop Information and Dates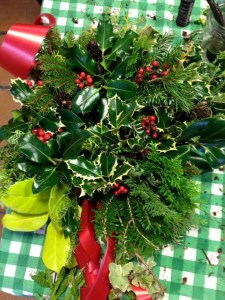 Wreath Making Workshop - £21.50
A fantastic, long lasting wreath to hang outside. The workshop price includes all your materials – wreath ring, wires, foliage, moss, ribbon, larch cones, holly – and a step by step guide from Louise, our workshop leader who has 25 years experience in the trade!
Also includes tea/coffee on arrival and a warm, luxury mince pie with 2 scoops of any flavour of our award winning Hilly Billy Ice Cream at the end - yum yum….!
NB – evening courses are all 'bring your own!' alcohol/wine..!
Dates – all December:
Saturday 9th 10am-midday or 2-4pm
Wednesday 13th – 7-9pm
Thursday 14th – 7-9pm
Friday 15th – 10am-midday or 7-9pm
Tuesday 19th – 10am-midday
---
Festive Table Centrepieces Workshop - £29.50
What every house needs – a show stopping, handmade festive centrepiece..! The workshop price includes all your materials – glass vase, candle, oasis ring, wires, foliage, flowers moss, ribbon, larch cones, holly – and a step by step guide from Louise, our workshop leader who has 25 years experience in the trade!
Also includes tea/coffee on arrival and a warm, luxury mince pie with 2 scoops of our award winning Hilly Billy Ice Cream at the end - yum yum…..!
NB – evening courses are all 'bring your own!' alcohol/wine
Dates – all December:
Tuesday 19th – 7-9pm
Wednesday 20th – 7-9pm
Friday 22nd – 10am-midday or 2-4pm
---